How to check that the students have actually received and seen their work-to-do on Skolengo?
Published on April 1, 2020 by Clémentine
-
Updated on March 4, 2022
In the Skolengo teaching binder, teachers can create attractive activities by adding media to them: images, video, audio recordings, etc. From this activity, teachers have the possibility of giving work to do to their students and can efficiently monitor the on-line delivery of homework with the EMS.
Putting work to do, easily and quickly
In the work-to-do tool of the teaching binder, the teacher prepares an instruction and can attach a link to the activity attached to the homework to do subject. It is important that the teacher specifies that each student must click on "declared done" when their work is finished. In a few clicks, they send a homework to their students, indicating its delivery date but also the estimated time for doing it.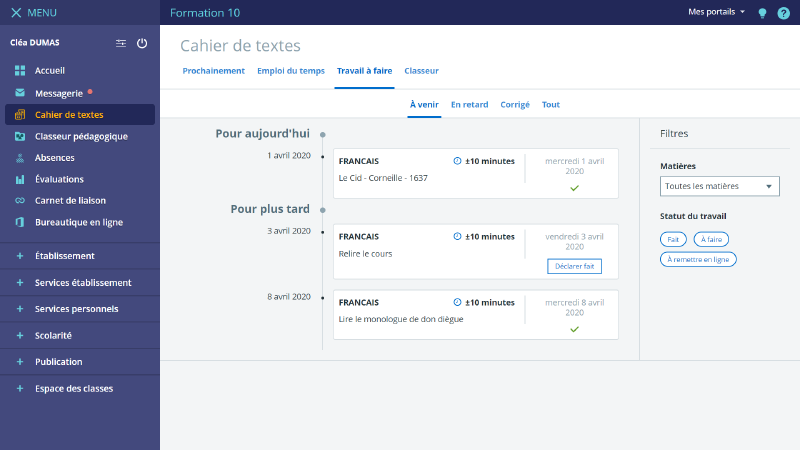 The student clicks on "Declared done" to tell their teacher that their work is finished

A direct view of the homework delivered by the student with the Skolengo EMS
In the work-to-do tool of the teaching binder, students find all the homework given by the teacher. As soon as they are finished their work to do, they just have to click on "Declared done" to inform the teacher of the work delivered. This feature also allows parents from the home page or the organiser, to check that their children have indeed done their work and that they have competed what the teacher asked.
From their work-to-do space, the teacher has direct access to a dashboard listing the students who have or have not delivered their work.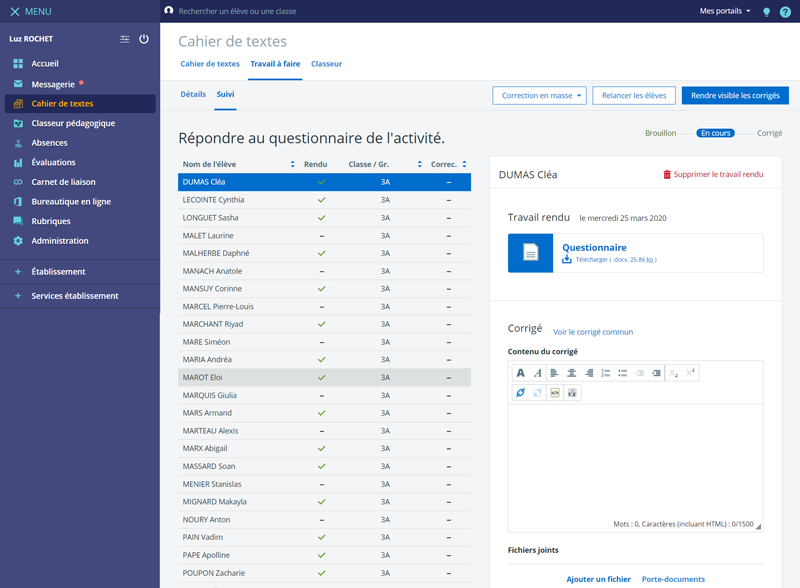 A dashboard for the teacher lists the student who have or have not delivered their work
This dashboard in the "work-to-do" space offers a glimpse for the teacher of a complete overall view of the students who have consulted and finished the work given.
To know how to use this service, consult our on-line help on the skolengo-academy site: