Develop and reinforce the links within your educational community



communication skolengo


Distribute
easily all your school's information



communication skolengo


Favour
collaborative work (administrative and teaching) within your educational community



communication skolengo


Reinforce
the links between the school and families and students
Website
Benefit from an easy to manage, multilingual internet site. This service is aimed at schools to help them build their public website and at institutions piloting networks of schools so as to have community portals, academic portals, a project portal and portals for schools and universities organized into portal networks.
User-friendly and with an attractive design, the website service allows you to highlight the life of the school, to help in the dissemination of information and discussions with the educational community.
It also allows you to highlight community activities, and regional policies for the institutions.
site internet Skolengo

School intranet
Develop communication within your whole educational community in private mode by means of the intranet service.
Through a unique account, the user can access a complete set of services tailored to the needs of students, teachers, deputy principals and school principals. Parents also have an account allowing them to monitor their children's schooling and to perform procedures online.
Social messaging service
The school has a secure communication environment facilitating exchanges with the educational community.
Read more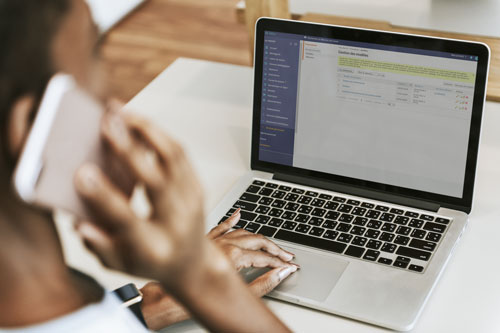 Forms
Skolengo provides form templates for carrying out enquiries or surveys but also for analyzing and managing the responses downstream.
On the teaching side, the teacher can distribute a document to their students in the form of a multiple-choice questionnaire on the topic studied. Thus they have a quasi-instantaneous view of the level of the students and what they have learned. They can then adapt their course according to the individual abilities of the students.
On the management side, administrative teams can gather authorizations for school outings, or they can sound out parents for choosing the next school trip.

Agendas
At a glance, the user has a complete view of their schedule. They can enter all events concerning them and personal and group agendas can be overlapped (organizers, resource booking, etc.).
It is also possible to import and export agendas.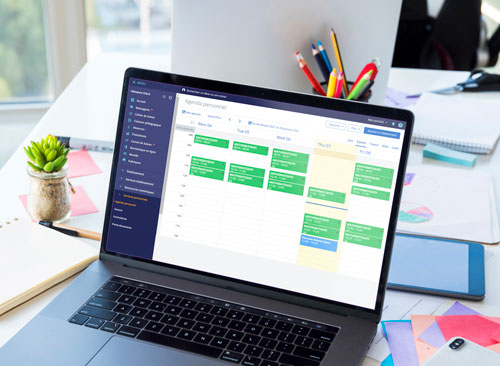 .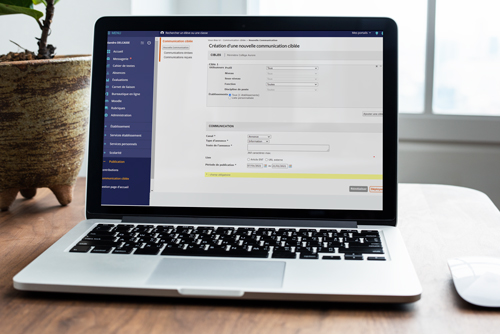 Multichannel communication
Multicast your information easily via e-mails, SMSs, direct mailing and targeted communication to enhance its visibility. It is also possible to multicast information on your different portals.
The school can exchange rapidly with parents by SMSs. For example, after having received attendance register reports, the school sends SMSs to parents of absent children to let them know.
With targeted communication, the academic portal or a school can carry out mass communication actions to precise user targets, especially for sending important information. The issuer has total control over the recipient targets upstream of the dissemination as well as the distribution mode on the DSE, according to the user profile (news, announcements and messaging service).
Hear from our clients
The Skolengo messaging service allows us to communicate with families when parents do not necessarily want to come to the school. On the other hand, families can talk to teachers to clarify points discussed in class, to inform them of difficulties encountered, etc.
Sylvie Hochart, Principal

The generations turn more and more to the use of mobile phones. There are more and more parents who don't have internet access at home but who always have their telephone close by. They use their telephones therefore to consult the EMS.
Florent Hassler, Principal

Teaching
Liven up your teaching activities and provide each student with individual assistance.

Discover the module
Collaborative
Reinforce the collaboration between teachers and their pupils/students
Discover the module
These services could also interest you