collaborative practices skolengo


Reinforce
collaborative work within the educational community



collaborative practices skolengo


Develop
synergies between teams and gain in efficiency



collaborative practices skolengo


Benefit
from secure, efficient digital tools
The blog
The blog allows you to produce multimedia content (containing text, sound, images or videos) with the possibility of attaching them to documents (Word, pdf, etc.) or forms.
It offers a predefined, user-friendly, template for producing attractive content through teamwork.

Students and teachers can use the blog in particular for publishing articles, presentations, stories about outings and school trips.
The school principal has the possibility to use it for disseminating information such as minutes of class counsels, with the school staff.
The main educational counsellors can also use it to send documents and information to class representatives.

To go further: How can you share documents with students via the blog?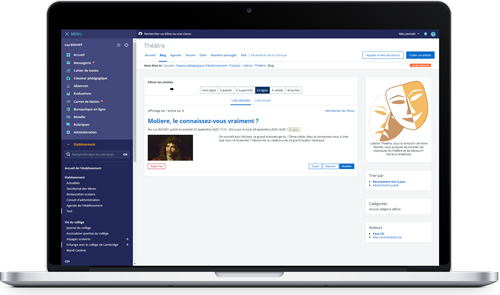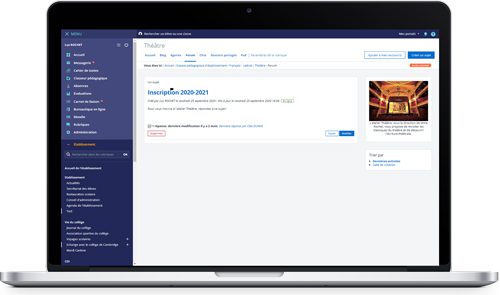 The forum
Start a discussion string with the forum.
Students, teachers and school staff can discuss varied and common subjects in this discussion space.
For securing these exchanges, the tool allows the forum administrator to moderate the comments.

The Chat
Benefit from a user-friendly and secure discussion space for direct communication between class members.
Teachers and administrative staff can configure the exchanges to pre-defined time slots.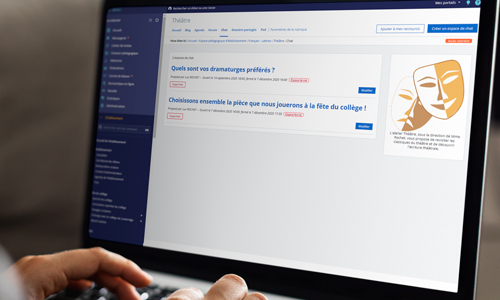 The Videoconference skolengo
The Videoconference
With just 1 click, you can organize face-to-face or remote meetings in your agenda.
Each user (with the exception of "student" or "parent" profiles) can create shared events from their personal agenda.
Notifications are sent to guests via the messaging service of the SIS / EMS and the event appears in their agendas.
This is a secure service compliant with GDPR and hosted in Europe.

With this service, it is possible to organize virtual classes and virtual administrative meetings.

Find out about our videoconference service

Online office software
Benefit from Word, Excel and PowerPoint tools in collaborative mode.
These tools perform back-ups automatically in the DSE of documents created but also an automatic back-up while the user is working. All documents can be viewed and edited.
Several users can work on the same document at the same time.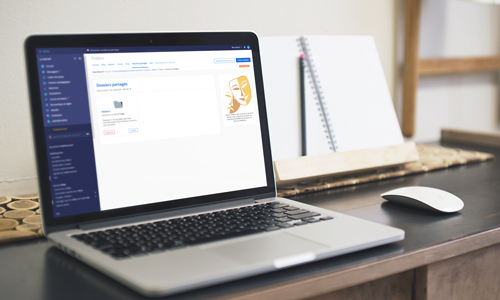 Shared binders
Facilitate teamwork using shared binders for organizing your content.

Shared binders are a common storage space in which you can organize content in dedicated files with adjustable access rights.
In the shared binders, the school principal can provide their staff with specific documents such as absence authorization forms, documents examined during a board of governors' session, etc.

Teachers can use it to make available, documents related to the topics studied.

To go further: how can you share documents with students using shared binders?
The class space
Discuss life in the class remotely by means of the class space!

The class space allows teachers and students to exchange and share class-related information.

To facilitate exchanges between students, but also between teachers, each teacher has their own space for their class in which you can find features like the blog, the forum, shared binders.

Via the class space, teachers can also communicate with parents, in particular concerning the distribution of articles. They can provide information for the organization of a school trip, minutes of the class councils for parent representatives, etc.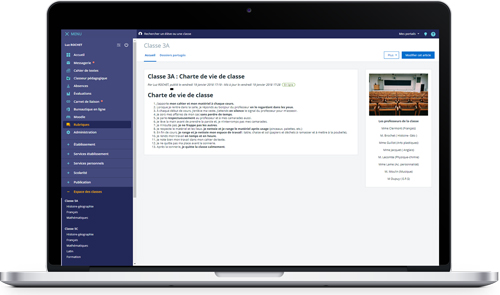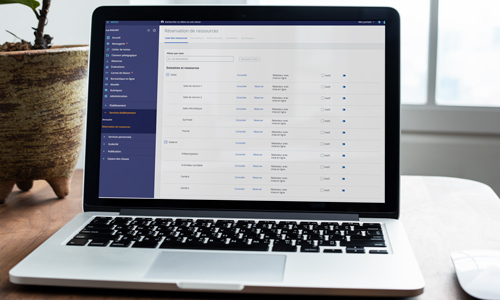 Resource booking
Book all your equipment resources with just one click.

If they have access rights, the school staff can view and book equipment resources made available to them, via a dashboard in the resource booking service.
Equipment booked appears automatically in the resource agenda.
In particular, they can book computer equipment (projector, camera, tablet computer, iPad, etc.), rooms (computer-equipped, multi-purpose, sports), etc.

Hear from our clients
With Skolengo, I have been able to develop real collaborative work with the students with it helping me to produce podcasts. Thanks to the blog, the forum, the agenda and shared binders, the students have learned how to participate in collaborative work.
Bruno Conrard, teacher


Teaching
Liven up your teaching activities and provide each student with individual assistance.

Discover the module
These services could also interest you