timetable skolengo


You can
easily design your school's timetable step-by-step



timetable skolengo


Gain
in efficiency by integrating the timetable in Skolengo



timetable skolengo


Adopt
a 100% internet-based, secure timetable solution

Assisted design tool
User-friendly and intuitive, the tool helps you to use the solution quickly and easily. The logical presentation of the main menu guides the user in the step-by-step design of the timetable.

The flexibility of the module allows the user to keep control of the timetable design to adapt to the specificities of their school (group management, unavailability of classes and teachers, etc.)

Dashboard
A real decision-making tool, the dashboard guides the administrative staff in how to adapt the timetable as it is being built. It allows them to view the progress of the design and points that need attention.
Irregular courses
Percentage of irregular courses placed,
Number of courses placed per class,
Number of students without a group
etc.


Intuitive filling of groups
A summary table assists the user in the creation, the filling and the control of groups: you just have to tick the students in the list offered to add them to a group.

Examination of students of a class belonging to a group is done with 1 click.

Automatic and manual positioning
The task automation tools like automatic positioning of courses let you save time.

Manage the most difficult batches of courses in priority with automatic positioning.
Optimize the organization of courses with manual positioning.
Daily management
As the module is integrated into Skolengo, updates to the timetable are automatically transferred into the organizer of the Teaching module or the attendance registers of the Schooling module.

The multi-display of the timetables simplifies last minute changes.

The free management of tailored periods responds to all periodic course situations (AP, internships, etc.).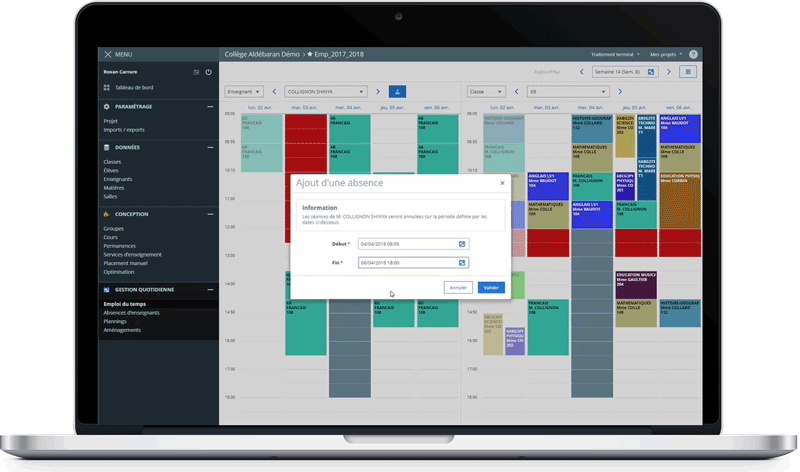 Personalization of timetables
The intuitive layout of timetables can be adaptated to students encountering specific situations. The curricula of handicapped, allophone, or remote students can be personalised.
The creation of timetables is the primary major act of the school principal. With the Skolengo timetable, the start of the school year passed off very well.
A Principal

I mainly use manual positioning. I create all my courses and I then try to position them manually. It is really easy to do and to visualize. You enter all a teacher's courses and everything is automatically positioned in the timetable. This solution is easy to access and you don't have to be a computer genius to use it.

Teaching
Liven up your teaching activities and provide each student with individual assistance

Discover the module

Schooling
Govern your school effectively and provide personalised monitoring of each learner

Discover the module
These services could also interest you