Published on December 18, 2019
Marjorie Tonnelier, teacher of Literature-History-Geography and Moral and Civic Studies at the Pierre et Marie Curie High School in Freyming-Merlebach speaks about the advantages of Skolengo, which offers features that facilitate both the daily preparation and teaching of her classes. It is also a tool which allows her to provide an innovative teaching practice: the accompanied class.

Favouring the development of digital usage in class
Every day, Marjorie Tonnelier, teacher of Literature-History-Geography and Moral and Civic Studies, uses the Teaching Binder, the Work-to-Do, the Organiser, the Blog and the Messaging service. In a few clicks, she can put all the information which will allow her to teach her class into the Teaching Binder,. To make the activities attractive, Skolengo offers video and image insertion and audio recording.

« The Teaching Binder offers a very aesthetic class presentation. It is a tool which facilitates student learning. The students know that they will find all of their classes with an attractive presentation (images, video, audio recording) in one and the same place. At a glance, they know what the class will be like ».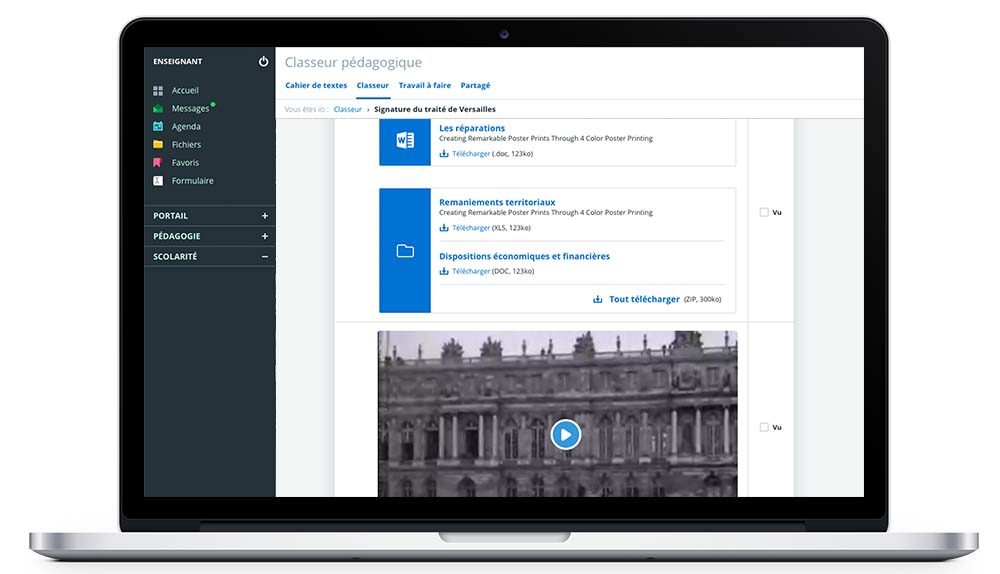 Moreover, the Teaching Binder also provides the possibility of providing differentiated teaching which is a real advantage when helping students in difficulty.
With the Work-To-Do feature, she rapidly places the work to do for each student into their Organiser while ordering the work to be done. The Organiser provides her with a real time saving, as she is able to distribute an activity into her Teaching Binder at a click. Using this binder, the students keep their courses over the long term which allows them to easily find all the information when they come to prepare their exams. At the end of each class, she provides a summary article or an extension of its activity on the blog. Thus, « The students learn to browse with a digital tool and to develop their general culture with supplementary information on course subjects which I put in the blog ». With the messaging service, communication with the students, but also with other teachers, is rapid.

Skolengo is a real complete eco-system in the service of teaching.
Putting innovative teaching practices in place
In particular, with the MBN (Skolengo solution) EMS, Marjorie Tonnelier has developed an assisted class. The goal of this new teaching practice is to develop student autonomy. Unlike the inverted class, with the assisted class, everything happens in class. The students work alone or in pairs. The teacher prepares long activities in the Teaching Binder beforehand. The formatting of the Teaching Binder as well as the tools offered (integration of video, pdf, illustrations and audio recordings) allow the teacher to guide the student: the goals of the activities, the guidelines, the videos. Using this teaching method, the teacher is able to manage the heterogeneity of different students.