The EMS messaging service for the educational community
Published on May 19, 2021
-
Updated on June 8, 2021
The Skolengo EMS offers an internal and an external messaging service. This secure space facilitates exchanges with other users of the EMS but also with the outside world if the school authorizes it. It is an indispensable tool for communicating with the educational community, in particular for disseminating information and facilitating the coordination and synchronization of tasks within teams.

A secure, user-friendly messaging service
From their secure space, the user can send a message to one or more recipients. Using the autocomplete tool, if the user has already sent an e-mail to a recipient, they just have to type the first letters of the contact so that the e-mail address is completed automatically. Moreover, to guarantee sending the e-mail to the right person, the My Digital Office feature of the EMS indicates the recipients profile beside their address.
The My Digital Office feature of the EMS* also offers an assistant to facilitate searching for a recipient. With the recipient assistant, the user can easily find their contact from lists that direct them to the section, to classes, to other school staff, to the directory but also to a personal address book. Once the contact is found, it is inserted automatically into the recipient bar.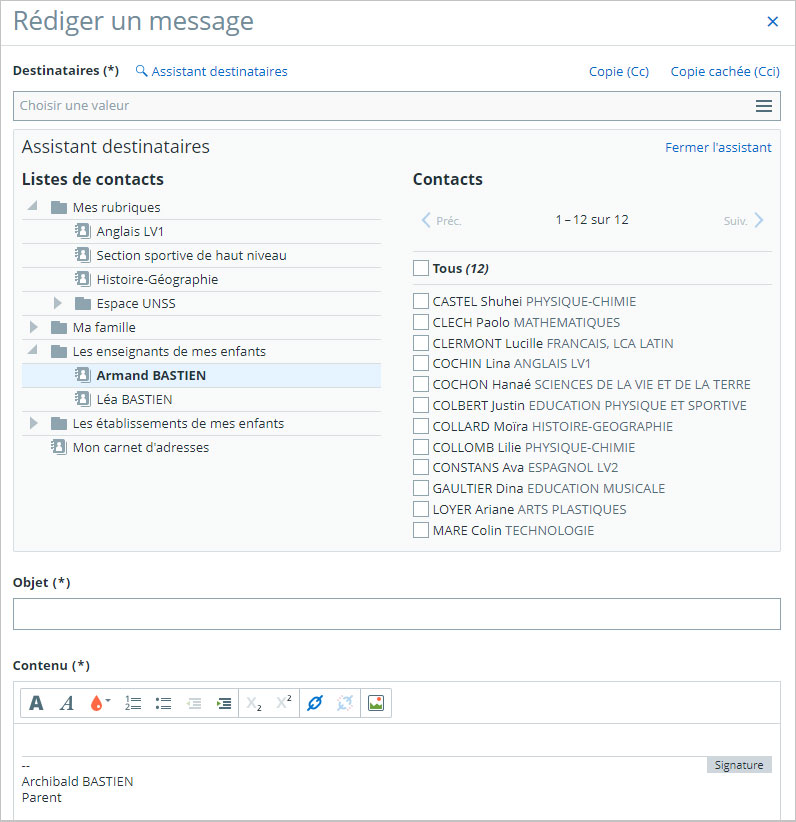 For example, a teacher wishes to send an e-mail to one of their students. They open the list of classes proposed by the recipient assistant, then chose the class to which the student belongs. The list of students of this class appears, the teacher ticks the student concerned and the recipient bar is completed automatically.
The lists of contacts are different from one profile to another depending on their need. They are configured by the school administrator.
It is also possible to send a message to an external address, i.e. an address that is not recorded by the EMS, if the school authorizes it.

When you write a message, you also have the possibility of attaching documents to it.
As soon as a user receives a message, they are informed of it via a dot beside the message section on the home page. A notification can also be sent to their personal address.

Personalized configuration of the EMS messaging service
Each user can configure their messaging service. They can define rules to be able to cancel the sending of an e-mail during a pre-defined time, to customize their signature, to configure their address book that is filled in automatically at each dispatch of an e-mail to a new recipient as well as to provide filtering rules for incoming messages.
*Education Management Software
How can you share documents with students via the EMS?
The Skolengo MIS or EMS (Educational Management Software) offers teachers a pallet of different tools for distributing documents to students

Discover all tools