Virtual class and meeting: think about the Videoconference service!
Published on January 13, 2021 by Clémentine
-
Updated on August 26, 2022
Benefit from the videoconference service integrated into Skolengo for organising your virtual classes and your administrative meetings in hybrid mode or 100% remotely.


With this simple and intuitive videoconference service, with one click, you can create your virtual class or your meeting from your personal agenda or organiser.
With this service being integrated into Skolengo, you simplify and secure access since no account has to be created and only users with an active EMS account can access the videoconference or the virtual class.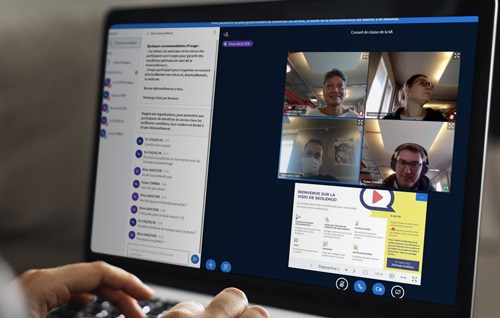 You benefit from the Videoconference service but you have not tested it yet? Let's go!
Organise your first virtual class or your first videoconference meeting!
Here are the resources that could help you:
To succeed with your first virtual class, check out our computer graphics summarising the 3 key steps for organising a virtual class
To limit connection problems related to hardware (microphone and webcam), download and distribute this audio and video connection guide to all participants.
Videoconference: review
Bonsecours Junior School - Arsène76 project in Seine-Maritime
A presentation of a virtual class was proposed to the President of the Department. It consisted of simulating a situation in which the students are Covid "contact cases". Some of the students followed their courses normally in class and the others were remote (for the purposes of the simulation, a small group of students representing the "contact cases" were installed in the CDI). Discover also other uses of the Videoconference thought up by this junior school by reading the whole article.
Only students that have an EMS account on Arsene76 can connect to the videoconference.