Videoconference: an effective educational and communication tool even without Covid
Published on July 12, 2021 by Clémentine
-
Updated on 21 février 2022 à 15H56
Skolengo offers the educational community an easy videoconference service to set up. This tool offers many features that can facilitate daily exchanges between the school, teachers, families and students.
During remote teaching periods, the videoconference was a real tool for providing educational continuity. It also had many advantages throughout the school year, outside of the remote teaching periods, as a means of developing communication and collaborative discussions in the educational community.
Find out about our videoconference service integrated into the EMS
Meetings within the educational community are made easy with the videoconference service
The videoconference allows teachers to simplify the organisation of parent meetings. In fact, if parents find it difficult to be available during the day because of work, the teacher can propose organising a videoconference at the end of the day. On the other hand, if the parents are separated and one of them lives in another region, the latter can participate in the discussions with the teacher. Thanks to videoconference, time and distance are no longer a hindrance for organising a meeting and this tool can reinforce links with the families.
Videoconference makes the organisation of meetings between school staff flexible. Organisational constraints related to presence days and course times, disappear. The meetings can be conducted in a hybrid fashion with persons present and remote. Teachers are not obliged to be in the school for attending meetings such as for example, a class council. A Latin teacher having only 3 students in a class, could, for example, follow the class council, remotely.




écran visio hors covid skolengo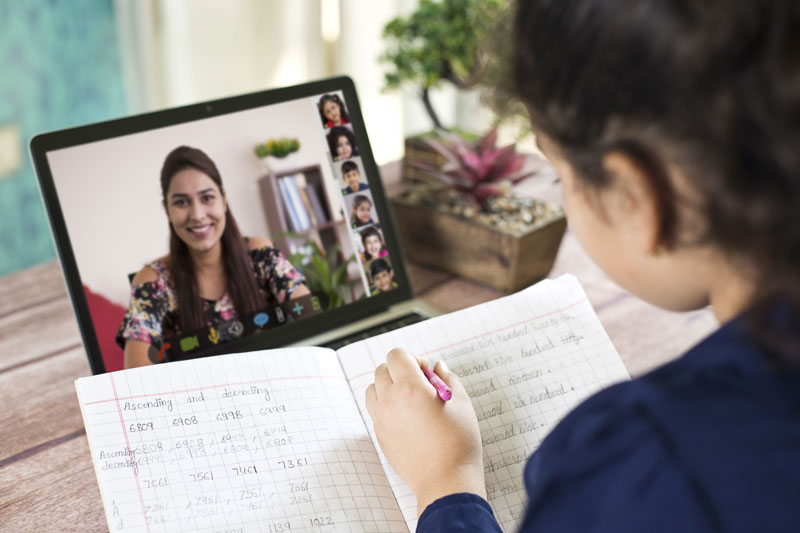 Videoconference in the service of the success of each student
Here are 3 examples of the use of videoconference for assisting in the success of students:
The students can follow their courses remotely:
The videoconference is a service that provides
educational continuity
when the student cannot come to attend courses. For example, when a student is in hospital or in convalescence, they can follow the courses remotely and keep contact with the other students and their teacher, via videoconference.
Another way to learn a modern language
The videoconference is also a tool for assisting student learning. For example, for developing the practice of speaking a foreign language, the teacher has the possibility of twinning their class with another class situated abroad so as to have the students talk to each other. With videoconference, students can therefore exchange ideas in "real-time" with foreign language natives they are getting to know.
Teaching students to speak
Finally, the service can facilitate the organisation of specific points with students, in particular for organising the rehearsal for the baccalaureate Major Oral exam, outside of course times or for easily communicating with a student who is in an internship.