How can you track your child's work-to-do on the Skolengo EMS?
Published on November 2, 2021 by Clémentine
-
Updated on 04 mars 2022 à 14H39
The Skolengo EMS offers parents the possibility of easily tracking the work the teacher has given their child.
From their child's Skolengo EMS home page, parents have access to all the home page given by the teachers. In this way, they have a direct view of the work that has already been done, that which remains to be done and the time dedicated to each task.
To consult in detail, the instructions of the work required, you just have to click on one of the works-to-do. The student has the possibility of delivering their work directly on-line.
Depending on the preferences of the teacher, the student can deliver their homework in different ways:
Tick a box to indicate that the work is done
Enter a text: the student writes their responses directly in the text box provided
Attach a file: the student delivers their homework in the form of an attached document (e.g. a slideshow or a text processing document)
Make an audio recording: the student directly records themself with the microphone of their computer or using a mobile phone (e.g. present yourself in English)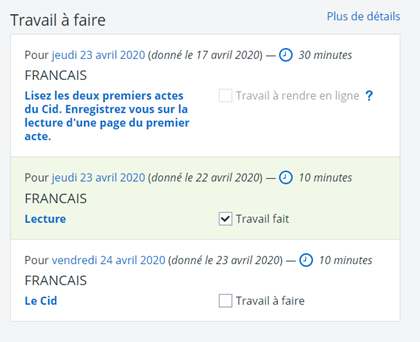 Ideally, your are advised to have your child connect to their EMS home page each day to consult the classes for the day and new homework to do.