Testimonial of a Deputy Headmaster: communicating effectively with Skolengo
Published on January 6, 2020 by Clémentine
-
Updated on March 4, 2022
Mr. Plontz, the Deputy Headmaster of the Pierre-et-Marie Curie high school in Freyming-Merlebach in Moselle talks of the advantages of the MBN EMS for communicating.
With the arrival of the My Digital Office
EMS
, his school has discovered a new convivial, simple and user-friendly tool. The educational community has also quickly caught on to the EMS.
Very quickly, the teams have noticed that it was easy to highlight content in a fun way and to renew it regularly.
As a member of the administration, Mr. Plontz, Deputy Headmaster of the Pierre-et-Marie Curie high school in Freyming-Merlebach, uses Skolengo in particular for highlighting the life of the school but also for communicating with the educational community.
With the home page
, he highlights information on the public page of his school. With a few clicks, the home page offers
attractive formatting and content combining text, photos or videos
(presentation of information on 3 streams offered by the Professional High School on practical work on the outside, visits, projects, press feedback, etc.).
With very little effort, the school home page becomes attractive due to its dynamic presentation. This home page is a real space for highlighting our work but also for the investment of the educational community for developing digital use.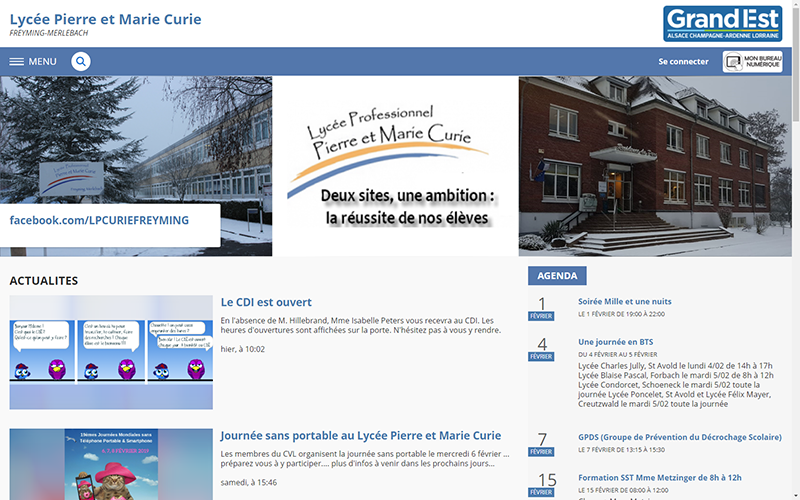 With MBN, Mr. Plontz provides
a real institutional communication with the teachers
. Via a section intended for teachers, it he provides them with all the teaching information which could interest them like, for example, that sent by the Ministry of National Education, the Local Education Authority, etc. Thus, teachers can find all this information in the same place. It also uses
an agenda linked to this section to show what is happening in the school
on a day to day basis. It uses a messaging service to exchange with teachers on a case by case basis.
With Skolengo, it is possible therefore, to rank the information depending on the profile to which we wish to communicate.
The Deputy Headmaster of the Pierre-et-Marie Curie high school in Freyming-Merlebach already has new ideas for continuing to improve communication within the school, such as a forum dedicated to the development of high school life …