Building and energizing the school public home page
Published on June 15, 2021 by Clémentine
-
Updated on February 21, 2022
The EMS (Education Management Software) of Skolengo allows the public home page to be built easily and quickly. All the activities and information on the school are thus made available to the educational community in an attractive and friendly manner. The home page guarantees good communication between the school, the students and families. To regularly renew the content of the home page, the school can entrust different people for the contribution and publication of the content.

3 best practices for configuring your home page
It is important to reflect on the structure of your website upstream of the design of your home page. This step will facilitate the construction of its sections for energizing your website and to save time in the home page.
In addition, it is possible to simultaneously create 5 different pages. There is therefore, one of them online with four other draft ones. When you have time, prepare your 5 home pages depending on the period of the year (exams, new year, internal events, new projects, etc.). When the time comes, you just have to publish the chosen page for considerable time saving. Renew your home page by changing its structure or the welcome photo which will energize your website for a better user experience.
In fact, to build your public website, we advise you to set up an editorial committee within your school to distribute the actions to perform on the page. This committee can be composed of the school principal, teachers, staff and parents, etc. It will define the editorial policy of the home page and its news. Finally, the different contributors can participate in the drafting of one or more sections and its content.
Construction of the home page: a teaching role
You can delegate the drafting and the publication of articles to students to feed the school home page. Teachers exchanging ideas with students can plan the schedule for articles to publish on the home page as events of the year occur (school trips, sports events, etc.). Together they then define who is going to contribute to the page. Each chosen student will be in charge of writing and publishing the article. This is a good way to teach students responsibilities, by displaying their work to the view of the educational community. Thus they get to know their abilities and what their work brings to others. This is the origin of information that is considered important to disseminate to the educational community.
For example, a student can write an article on a school outing to the cinema. They publish it in the "School life" section and this article will be relayed into the News block on the home page. It is also possible to feed the "latest publications" block by regularly publishing articles in the sections selected for this block.
Take inspiration from other school's public home pages
Here are examples of home pages: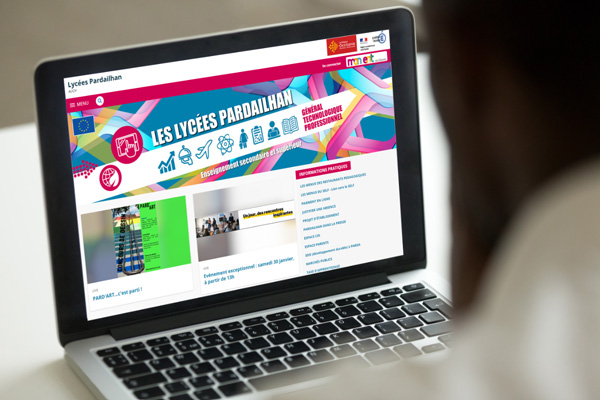 School city Pardailhan in France
Junior school Jacques-Callot in France
Junior school Fabien in France